Patrick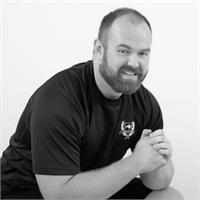 Patrick instructs the following:
Tabatta : You better come to WORK
Tuesdays and Thursdays @ 12:15- 12:45

This class isn't necessarily one we would recommend to beginners... it's INTENSE! Tabatta training by general definition, is 20 seconds on, 10 seconds off, for 4 minutes. We will stack variations of exercises for you to add up to 30 minutes, with the goal of an absolutely lung and muscle smashing workout. You will come across exercises like push ups, lunges, burpees, deadlifts, squats, sprints, mountain climbers ... and all kinds of fun surprises. The whole point is to absolutely blast and fatigue as many muscle groups as possible and jack up your heart rate and metabolism in a short period. The benefits? Aerobic and anaerobic conditioning, full body strength, and a metabolism spike that eats at fat for hours after the work out's done. Are you a beginner but want to give it a try? Bring it ON! Just let your instructor know so that they can offer modifications and help if you need it! Let's do this!




Every Minute On the Minute. It's a simple concept which allows our clients more choice in how they take on the challenge of getting fit. The EMOM class allows more options for the clients to select weights/exercises which best suit their fitness goals. The class works in a circuit style like our other classes, but the work period is 1 minute. Clients will be working with our educated instructors to help them select the weights that best suit their fitness needs. For some it will be light weights and lots of reps, for others it might be heavier weights and only a few reps over 60 seconds.




Weight training is important for losing weight, raising metabolism, strengthening bones and muscles and improving fitness.

In a supportive environment, our skilled weight training coaches will guide, encourage and ensure proper lifting technique to maximize muscle strength and endurance without the fear of humiliation or injury.

An essential key to your overall Optimal Strength & Conditioning Program.