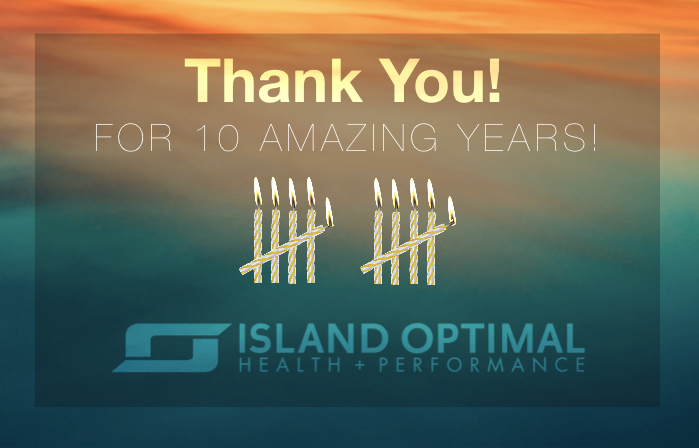 Island Optimal Health & Performance opened its doors 10 years ago and what an incredible 10 years it has been!
The journey began in 2007 when Abe and I graduated from Chiropractic School with the ambition to create a caring and inspiring environment where people could come to improve their lives. After reading books on how to drywall and lay tile floors and recruiting family and friends to help (often paying them with pizza and hugs), we completed renovations in February 2008 and opened our doors to the first Island Optimal clinic on Bowen Road. In the early days it was just Abe and I, where he was my receptionist when I was treating patients and I was his while he was treating. It didn't take long before we required our first employee and hired Abe's brother to be our receptionist - oh how times have changed! Our first associate Massage Therapist came on board that same year and with the increased demand of our services we soon discovered that our three-room clinic was not big enough and we needed to expand.
Construction of the Rutherford Road Clinic began in 2009 and was opened in October 2010 (we still laid all the floors!) and we grew from one clinic with two Chiros and one RMT to two locations with three Chiropractors, two Massage Therapists and a Naturopathic Doctor. Skip ahead 2.5 years and in attempt to keep up with the high demand, we realized we needed to expand once again. In 2013 we purchased the Performance Centre, in 2014 we began construction of the Dufferin Crescent Clinic, and in January 2015 we closed the little Bowen Rd clinic where it all first started and open the newest Dufferin Clinic location. Here we are today with three locations in Nanaimo (two Clinics and the Performance Centre) with 4 Chiropractors, 1 Naturopathic Doctor, 2 Physiotherapists, 5 Registered Massage Therapists, 1 Osteopathic Practitioner, 2 Registered Clinical Counsellors, 3 Athletic Therapists, 1 Kinesiologist, 6 Strength & Conditioning Trainers, 5 Office Administrators, and our sister business Moksha Yoga Nanaimo which has +60 classes and workshops/week and staffs 25 people.
When I tell this story of the evolution of IOHP, people often comment on how proud must be of our success, which I guess is true, but when I really think about it, what I am most proud of is that we have really made a positive difference in the lives of others. We have given our amazing practitioners a space to do what they are inspired to do, which is to help individuals and families live a more healthy, active and pain-free life so they can accomplish their goals whatever that may be. We have been able to employ some wonderful people and provided a platform for so many lasting friendships to develop. We have had the privilege to use our influence to support and give to some really great local and global charities and have given others the opportunity to do so as well. We have sponsored and volunteered our services in the community and are grateful for the opportunity to do so. We have helped people out of pain, improved their function, have given them hope and helped then reach their goals. And lastly, I am very proud that in the face of challenge, failure and disappointment (oh there has been many) we continue to grow and learn and have become more compassionate to each other, ourselves, our community and to the world around us.
We are so grateful for the countless people who have supported us along the way, from family and friends to bankers, bookkeepers and plumbers. Extremely grateful for our outstanding practitioners and staff who are dedicated and share our vision of giving the best care and experience to everyone who walks in the door. We are humbled and forever grateful for all the patients, clients, teams, and our community who continue to put their trust in us. And without hesitation, I am so grateful for Abe and his dedication, sacrifice and hard work and for standing beside me in creation of what Island Optimal Health & Performance is and stands for today. We are committed to our practitioners, staff, patients and community and look forward to serving you all and seeing what the next 10 years holds!
With deep gratitude,
Kristy, Abe
and the entire Island Optimal Team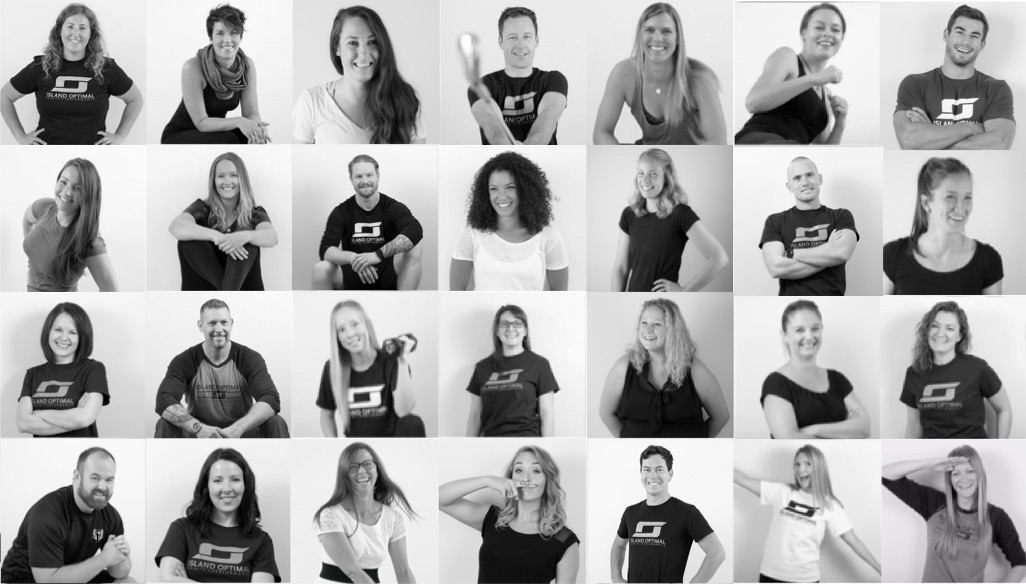 Team Optimal